Blooom vzw facilitates workshops
within the framework of the Global Goals.
​We respond to the universal call to action
​to end poverty, protect the planet ​and
​ensure that all people enjoy peace and prosperity.
WeForRefugees
@ shortfilm a co-creation between refugees and students

Innovation, creativity and digital technologies can be the engine for social change in an urban context. WeForRefugees wants to take these insights create a space for migrants and asylumseekers to generate hands-on, entrepreneurial ideas or actions, and to engage in multidisciplinary and cross-border collaborations.

WeForRefugees hopes that more and more people realize that through the participatory involvement of citizens and people applying for citizenship, policymakers and professionals from different backgrounds, complex issues can be resolved through a design process. WeForRefugees should also evoke a sense of urgency! We are, in fact, facing serious challenges in several areas, both in terms of economy, ecology, welfare, education, mobility, social inequality and migration. These are challenges where the existing, more familiar ways of thinking often provide no solution. So, the desire for concrete action grows.
---
| | |
| --- | --- |
| FoodRebels | ​WEEK VAN DE FAIR TRADE 4 tot 14 oktober |
BLOOOMCAMP

​

Crucial Challenges:

Hoe kunnen we

mensen sensibiliseren rond Fair

Trade? Hoe promoten we België als

​land van de Fair Trade?

Via een youth centered design approach worden jongeren (10) gecoacht om hierop antwoorden te

geven. Het Food Rebel project start

met een Blooom-Camp om met een kleine groep jongeren een

influencers actieplan op te stellen.

Ze komen natuurlijk eerst zelf in

contact met het concept van Fair Trade in al z'n aspecten om het

nadien te kunnen promoten.

Daarna zullen de jongeren hun

school én netwerk hacken en

uitdagen tussen 4 en 15 oktober. Via uiteenlopende sociale media

kanalen worden Fair Trade (producten) gepromoot. De 10 Food Rebels

kunnen op die manier interesse rond

het concept van Fair Trade

opwekken bij meer dan 10.000 ​followers

Crucial Challenges: How can we sensitize people around Fair Trade? How do we promote Belgium as a Fair Trade country?

​Through a youth-centered design approach, young people (10) are coached to provide an answer. The Food Rebel project starts with a BlooomCamp where we draft an influencer actionplan. Of course, they will come into contact with Fair Trade's concept in all its aspects, to be able to promote it later. After that, the youngsters will hack and challenge their school and network between 4 and 15 October 2017. Through various social media channels, Fair Trade (products) will be promoted.

​The 10 Food Rebels can thus be interested in generating more than 10,000 followers in the Fair Trade concept.


FAIRTRADEHACK 13/10/18
October 13, 2018 we organize a hackathon around Fair Trade in Borgerhout.
Through a human centered design approach young people are coached to set up digital projects around Fairtrade. A hackathon is organized in a Hackers Retreat in Borgerhout to find out how digital applications (services and services) can be developed regarding Fairtrade. The young people learn to write design challenges, pitch their ideas and draw up a user-journey and a business model canvas, etc. After that they can use their coding skills to make a digital prototype. Coaches guide the process from A to Z.

Increasing awareness about Fairtrade products through human centered design

Teaching 21st century skills to young people in order to set up and promote projects on the theme of Fairtrade

Teaching multi-media and coding skills to young people with a migration background in a low-threshold way

Spotlight the North-South link of Fairtrade products among young people with migration background (Win-Win = double Win)
When the youngsters manage to make a digital prototype, extra resources can be found to have the app developed effectively, but the ultimate goal is for young people to develop the app themselves, which is why a longer coaching process is needed (2018, 2019, 2020). ) The influencers concept of the Foodrebels (Cf. Last year) will also be used to share the progress of young people in their network. The call is again aimed at 16/17 year olds for whom digital is inextricably linked to her life. The young people are part of Generation D, a generation with a passion for everything that is digital. The young people have a huge digital network: 10 young people x 1000 friends = 10,000 people !!!

Blooom vzw currently puts BoHoGeek on the market, an innovative and technology hub that aims to promote the flow of young people with a migration background to the digital economy. BoHoGeek needs a physical place in Borgerhout to be active around digital entrepreneurship and technology. Just like MolenGeek (see below), BoHoGeek wants to offer a wide range of activities in which young people come into contact with 21st century skills and thus develop their digital skills and improve their entrepreneurial spirit.
The Borgerhout hub is inspired by Molengeek and, as a coding school, wants to offer a generation of young people a future as computer geeks.

The Molenbeek tech incubator, MolenGeek, was honored in New York in September 2017 during a conference on digital innovation in the margins of the UN General Assembly. The aim of the event was to show the importance of technology and digital skills in achieving the Sustainable Development Goals (SDGs). In other words, Molengeek is more than a proof of concept that Blooom wants to bring to Borgerhout. Molengeek first started organizing thematic hackathons before opening a permanent place for geeks. We follow the same start-up, Blooom recently received financial support from the King Baudouin Foundation (KBS) and Stadsmakers (Antwerp) for the start-up of BoHoGeek. (Logo design, website, computers ...)
---
Nowasteland
Hackathon

Meer dan 500 jongeren die samen met experten, developers, bedrijven nadenken over voedselzekerheid en voedselverlies
Verzamelen van inzichten omtrent voedselzekerheid
Vertalen van de verzamelde inzichten naar een digitale applicatie

​

More than 500 youngsters who think about food security and food waste with experts, developers, companies
Gather insights about food security
Translating the insights into a digital application​
---
Powered by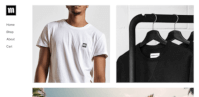 Create your own unique website with customizable templates.